SOLARIS with no. 1

position in

THe european
e-bus market

In the first 6 months of 2023, our market share in the European electric bus market reached 16.4%, securing the company's position at number 1 among other manufacturers. This is an area that is developing very dynamically, and for years, we have been setting trends, supporting this green change. The latest data indicates that we are the largest supplier of electric buses in Europe from 2012 to the end of June 2023.
The electric bus market is growing
It's worth noting that the electric bus segment in the first half of 2023 increased by a remarkable 45% compared to the same period the previous year, rising from 1,768 vehicles to 2,567 e-buses.
As a result, the e-bus sector in Europe now accounts for over 37% of all registrations of city buses. For many years, this market has been steadily growing, while the market for vehicles with internal combustion engines has been shrinking.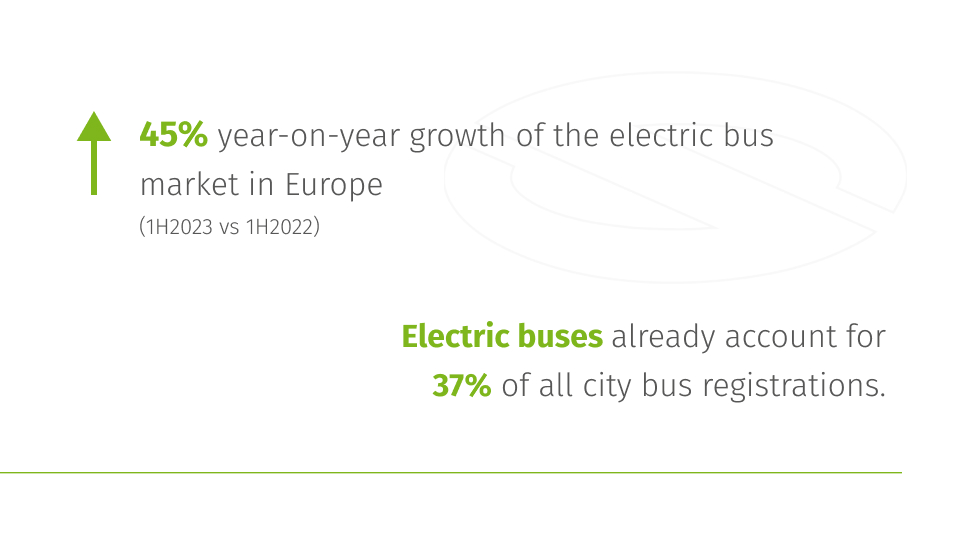 It is important to note that the total volume of registrations for all city buses in Europe in the first six months of this year was 12.5% higher than in the same period of the previous year.
Urbino electric buses are the most numerous among all electric buses in Europe
a Case Study of Rzeczyca Municipality, Poland

In the first half of 2023, Solaris secured the number 1 position in the European electric bus market with a

Watch a video with a few words of welcome from Solaris CEO [VIDEO]
Follow us on Social Media